The Cheese Gentleman promise
Cheese of the best quality selected by a specialist


With us you can choose from eleven different types of cheese. The larger a wheel of cheese, the more intense the aroma and the creamier (smoother) its consistency.
Therefore, we only cut each piece from the 30 kg to 120 kg cheese loaves when you place your order. Always fresh and suitable for your culinary occasion. Surprise your loved ones with cheese enjoyment at the highest level!
Our best pieces
Carefully selected by our cheese sommeliers
Cheese is art. The art of enjoyment.
Quality you can taste
We offer the best cheeses you can imagine. It's that simple. To go into more detail: we offer the most popular and most unusual flavors in different degrees of maturity.
The culinary delights for the senses range from fine Emmental and aromatic mountain cheese to explosive chili aromas and sweet truffle cheese made from goat's milk to purple lavender cheese and seductively spiced Gouda, which does more than attract attention with its red colour. Our cheese makers will convince you with their instinct for great tastes and their consistent quality.
We invite your palate on a culinary journey that is second to none. Take advantage of our diverse range and create unique moments of pleasure. The Cheese Gentlemen promise cheese enjoyment at the highest level.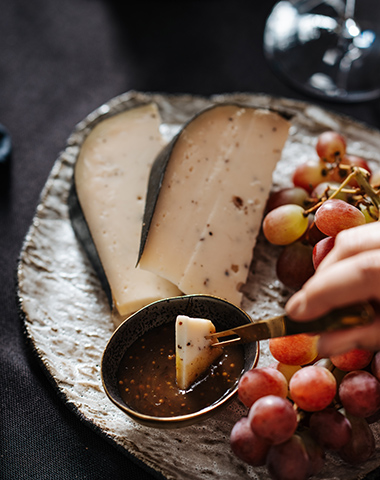 Cheese Gentlemen: The Cheese
With us you will find an extraordinary taste experience.